General airport info
Detroit Metroplitan Wayne County Airport
900 Middlebelt Road
Romulus, MI 48174
Airport parking options at DTW
On-airport lots
The Green Lots 1 & 2 are $12 per day. This will be the cheapest option for you if you choose to park at the airport. Other lots range from $14-$24 for daily parking. Other lots offer hourly parking along with a daily rate. The short term lots offer valet parking and there are two free cell phone waiting lots available. Each cell phone lot is located at the North and South end of the airport.
3rd party lots
If you want another option, the 3rd party lots range from $7 - $11 per day.
Hotels
The hotel lots around the area range from as low as $4 and up to $36 per day. You can check out all of the options below.
Airport owned & operated lots
Depending on your terminal, you have several options for parking. There is the McNamara Daily parking lot which offers $4.00 for a 1/2 hour or less. The Big Blue Deck Daily parking offers the same deal but the maximum price is $14.00 for a full day. Additional days after the first day is $14 flat rate/day. This airport offers two Cell Phone lots where you can wait to pick-up.
DTW Airport parking map
Click/tap the image to view full size...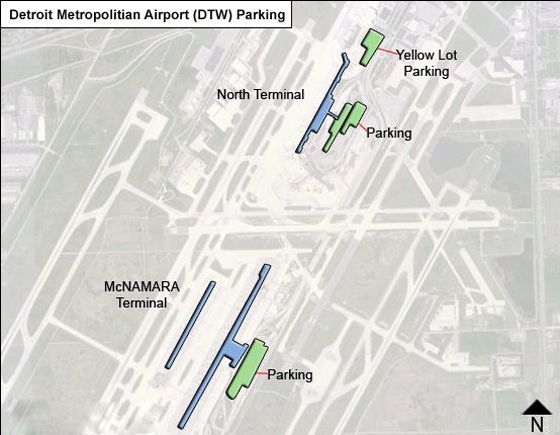 Long term parking
| Lot name | Price |
| --- | --- |
| McNamara Daily Parking | $26.00 /day |
| Big Blue Deck Daily Parking | $16.00 /day |
| Green Lots 1 and 2 | $14.00 /day |
Short term parking
Lot name
Price
McNamara Short Term Parking
0 - 30 minutes: $4
30 minutes - 1 hour: $6
1 - 1.5 hours: $7
1.5 - 2 hours: $8
2-3 hours: $12
3-4 hours: $16
4-5 hours: $20
5-6 hours: $24
6-24 hours: $26
Big Blue Deck Short Term Parking
0 - 30 minutes $4
30 minutes - 1 hour $6
1 - 1.5 hours $7
1.5 - 2 hours $8
2-3 hours $12
3-24 hours $16
Cell Phone Lots
There are two cell phone lots available at the North and South ends of the airport.
Privately owned & operated 3rd party lots
The private lots near the Detroit airport offer covered and uncovered options. You can also check out the valet parking offers. I've seen rates as low as $7 and up to $15 per day depending on options.
Hotel lots
Hotel lots may offer you a cheaper option and some can also provide you with a shuttle that takes you to the airport. Check out more information on hotel lots here.
The rates for hotel parking range from $4 - $36 / day with the best rates found at Way and Parkway Parking.
FAQ's
Depending on the lot you choose to park at the airport and the duration, the rate of the parking lot ranges from $4.00 per hour to $38 per day. Several off-site parking lots near the airport offer more affordable options.
Yes. You can park at Detroit Airport parking for free if you're only going to pick up or drop off a passenger. You can use the Detroit Airport Cell Phone Lots for the first few minutes and skip paying.
Generally, the cheapest parking at DTW is Green Lots 1 & 2. While it's located farther than the other parking facilities, you can ride the free shuttle service that is available 24/7 to and from the airport terminal building. The rate is only $12 per day without vehicle height restriction.
Yes. Detroit Metro Airport provides valet services at McNamara Terminal. An attendant will take your information, help you with your luggage, and give you a ticket that you will show later to pick up your vehicle. All valet vehicles are parked on Level 6 within the monitored parking garage. To get there, follow signs for Departures & Valet Parking as you enter the airport.
Detroit Metropolitan Airport offers parking stations where you can charge your electric vehicle for free – you just have to pay the parking fee. It is located at the McNamara and Big Blue Deck parking structures. The electric vehicle charging stations are currently only available in the Long Term Parking sections of the parking decks. Check the charging points availability by checking this website.
Yes. You can use the Cell Phone lots that are located in the Ground Transportation Center on Level 4 of the parking garage. These free lots offer a convenient place close to the terminals for drivers to idle while waiting for passengers to arrive.
Yes. There are parking spots at Detroit Metro Airport that are covered, which are perfect if you want your vehicle sheltered when you leave them at the airport's parking facility.
DTW offers free motorcycle parking in the McNamara Parking Garage, Level 2 on the International Arrivals Level. On the other hand, most areas of the parking lots can't accommodate vehicles over 7'0" high. However, van accessible parking spaces are available in designated areas of the Big Blue Deck and McNamara Parking Garages. For vehicles higher than 8'2" in height, parking spaces are available at the Green Lots. See full information about parking height restriction here. .
Unfortunately, there is no way to check parking availability at DTW before getting to the location.
Advanced reservation is not required nor available for DTW Airport parking. However, there are also offsite parking lots you can use and book your space well in advance:
Unfortunately, Military ot Veterans Parking Discount is not available at Detroit Metro Airport.
Accessible parking lots are available in every parking lot. Only those vehicles that carry a Disability Parking Placard or Disability License Plate, issued by the Secretary of State's office, may use these spaces. Vehicles not displaying the Disability Parking Placard or Disability License Plate will be subject to fines and towing fees.