CMH Airport Parking Rates
Long term parking
Lot name
Price
Green Shuttle Lot
On-airport
$5.00 /day
Red Shuttle Lot
On-airport
$8.00 /day
Blue Shuttle Lot
On-airport
$9.00 /day
Uncovered
Blue Shuttle Lot
On-airport
$10.00 /day
Covered
Walking Lot
On-airport
$13.00 /day
Long Term Garage
On-airport
$20.00 /day
Short Term Garage
On-airport
$30.00 /day
Valet
On-airport
$30.00 /day
$16 for the first hour
$2 for each additional hour
$30 per 24 hours
Park With The Shark
1426 Stelzer Rd
Columbus, OH 43219
614-299-2244
The Parking Spot
1399 Stelzer Road
Columbus, OH 43219
614-237-6413
Short term parking
Lot name
Price
Cell Phone Lot
On-airport
$0.00 /hour
Green Shuttle Lot
On-airport
$2.00 /hour
$2.00 for first hour
$1.00 / hour after first
$5.00 daily max
Red Shuttle Lot
On-airport
$2.00 /hour
$2.00 for first hour
$1.00 / hour after first
$8.00 daily max
Blue Shuttle Lot (Uncovered)
On-airport
$2.00 /hour
$2.00 for first hour
$1.00 / hour after first
$9.00 daily max
Blue Shuttle Lot (Covered)
On-airport
$3.00 /hour
$3.00 for first hour
$1.00 / hour after first
$10.00 daily max
Walking Lot
On-airport
$5.00 /hour
$5.00 for first hour
$3.00 / hour after first hour
$30.00 / day
Short Term Garage
On-airport
$5.00 /hour
$5.00 for first hour
$3.00 / hour after first hour
$13.00 / day
Long Term Garage
On-airport
$5.00 /hour
$5.00 for first hour
$3.00 / hour after first hour
$20.00 / day
On-Site Airport Parking Overview
Key takeaways
All lots accept short term parking and the prices for short term are pretty much the same ($2-3 per hour), so if you're parking short term, just get as close to the terminal as you can.
There's no down side to parking too long in the short term lots - you'll keep getting billed the hourly rate until you reach the daily maximum, which is just more in the short term lots than in the long term lots.
Long term parking is $5 - $10 per day, based on distance from the airport (you'll need to take a quick shuttle to the terminal).
There's a valet option right in front of the terminal, but it is currently closed.
There's a cell phone lot past the terminal
Not many options with third party lots at CMH. There are only two that I'm aware of, ranging from $7 - $10 per day, although I'm not totally sure why you wouldn't just park in the on airport lots since they're closer and cheaper. It might make more sense if you have a corporate or frequent parker discount.
CMH Airport parking map
Click/tap the image to view full size...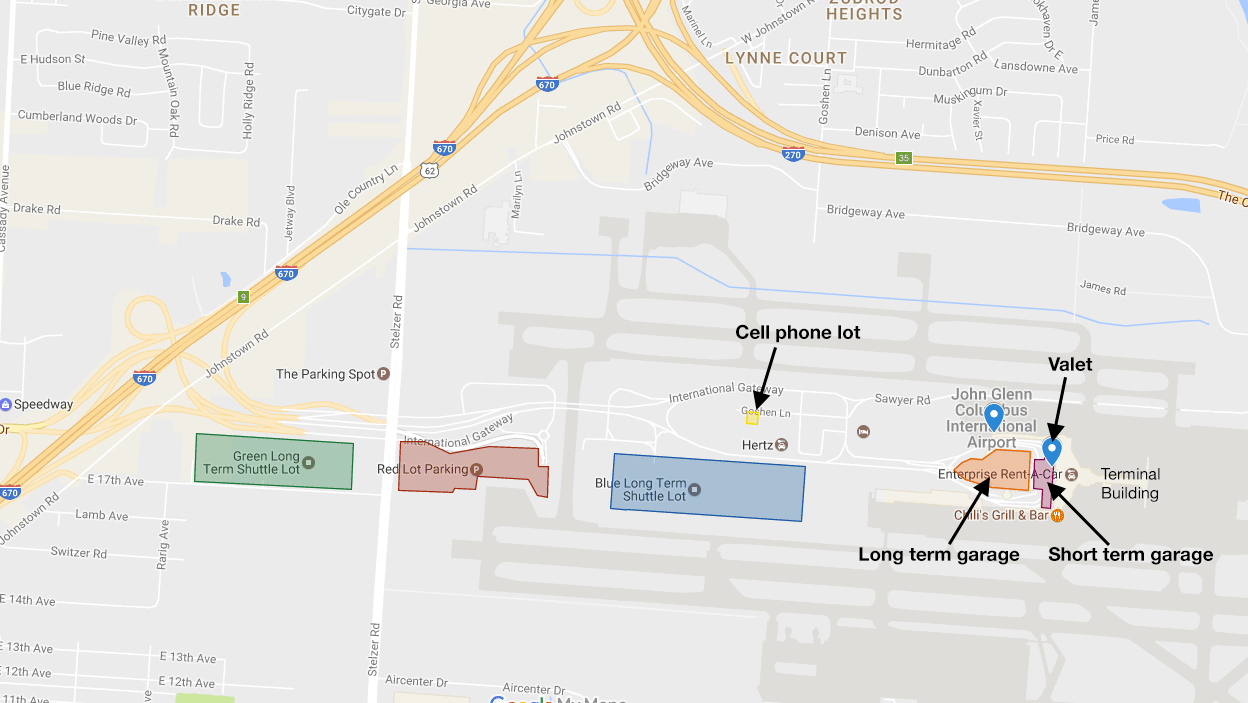 General airport info
John Glenn Columbus International Airport
4600 International Gateway
Columbus, OH 43129
Airport parking options at CMH
On-airport lots
CMH has 7 total options for parking (plus a cell phone lot), ranging in price from $2-3 per hour for short term parking to $5-30 per day for long term parking.
3rd party lots
There are only a couple 3rd party, privately owned lots. They're slightly cheaper per day than the on-airport lots. The airport is pretty small though, so they're almost as close to the airport as the airport-owned lots.
Prices are around $11 - $18 / day
Hotels
CMH has a few options for hotel lots in the surrounding area.
Hotel lots
Hotel lots allow you to park at nearby hotels and the hotel shuttle takes you to the airport.
Before using hotel lots, I'd recommend you read more about how these lots work on my guide to airport parking, particularly the section on hotel lots here.
FAQ's
Depending on the lot you choose to park at the airport, the rate of the parking lot range in price from $2-5 per hour for short-term parking to $5-30 per day for long-term parking.
There is no free parking near John Glenn Columbus International Airport. However, drivers can use the Cell Phone Lot for free parking while waiting for passengers.
Generally, the cheapest parking at CMH is the Green shuttle lot. You have to pay $2 for the first hour and $1 for each additional hour with a maximum of $5 for each 24-hour period.
Yes, the valet parking at CMH is available on the ticketing level of the main terminal. It's available 24/7 for customers looking for premium parking services or in a hurry. The ticketing level station is near the curb just inside the terminal doors.
CMH airport offers electric vehicle charging for garage and valet customers without additional charges. The EV charging stations can be found on levels 1 and 5 in the long-term parking garage and in the Blue Lot. Take note that the service is available on a first-come, first-served basis.
Yes. Drivers can wait for arriving passengers in the free Cell Phone Lot, conveniently located less than a minute from the terminal, next to the Blue Long-Term Shuttle Lot. The Cell Phone lot is free to park in and offers more spaces as well as enhanced lighting and security.
Blue long-term shuttle lot offers multiple available covered parking options. You just have to note that there is a height clearance of 11'3" due to the exit canopy.
Currently, the parking lots at the airport are unable to accommodate motorcycle parking. Check out offsite parking lot for this option.
Reservation is not required for any parking lot at CMH Airport. That being said, there are offsite parking areas to get your reservation if you want to book ahead:
Unfortunately, Veterans Parking Discount is not available at John Glenn Columbus Airport.
Designated handicap-accessible parking is available in the parking garages and Blue, Red, and Green shuttle bus lots. All shuttle buses are equipped with lift gear to accommodate wheelchairs and electric scooters.